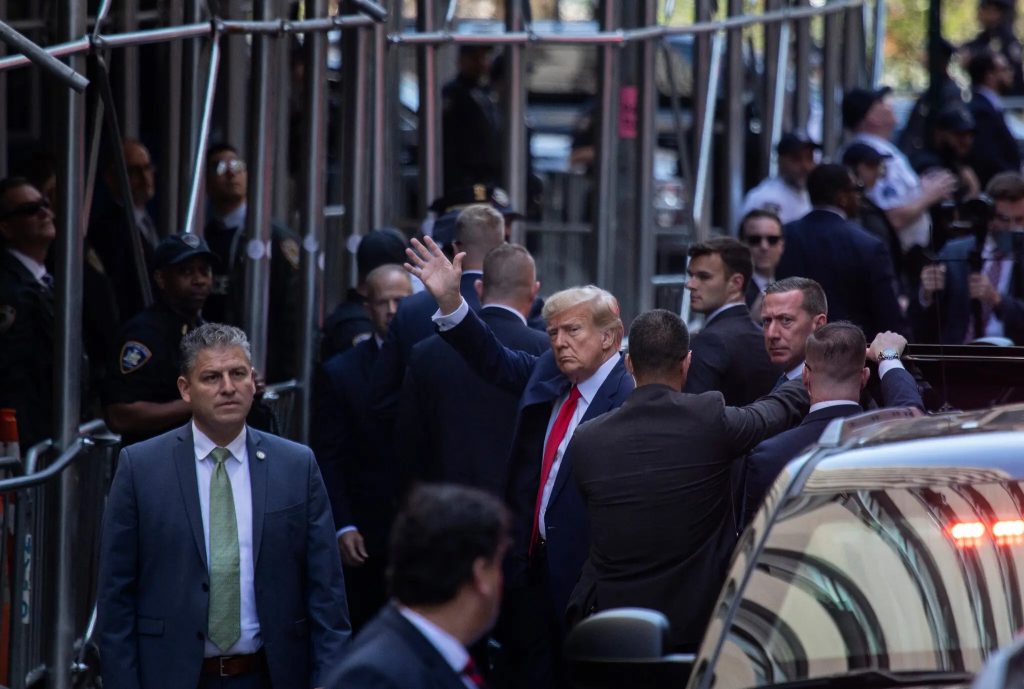 Donald Trump – The first former president in U.S. history enters the court as an accused felon with 34 felony counts.
For about two hours, for the first time in his whole life, Donald Trump was not a free man. He surrendered to authorities at Manhattan Criminal Court just before 1:30 p.m. on Tuesday, beginning a surreal moment in U.S. history: a former president was placed under arrest.
After being fingerprinted but not photographed for a mug shot, Trump walked a few steps out from behind a blacked-out door, where photographers briefly captured his glowering face framed by his signature combination of a navy suit, white shirt, and red tie.
Inside the courtroom, the 76-year-old defendant sat with his hands in his lap, next to his defense attorneys.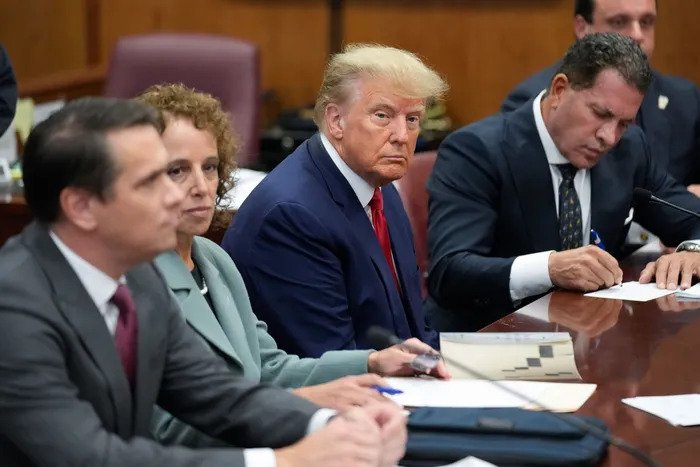 Trump responded, "Not guilty," when Judge Juan Merchan questioned him about how he had pleaded to 34 felony counts of falsifying business records in the first degree.
The case centers on Trump's alleged role in directing hush-money payments to Stormy Daniels via Michael Cohen, Trump's former attorney, and fixer, to save his 2016 presidential campaign from the porn star's allegations of an extramarital affair years earlier.
Prosecutors allege that business records created to reimburse Cohen were falsified — everything from entries in the Trump Corporation's ledger to check stubs. In court papers, they also cited similar efforts by Trump's then-friend David Pecker, who ran the National Enquirer, to "catch and kill" other damaging stories from Playboy Playmate Karen McDougal and a former Trump doorman.
Alvin Bragg, the Manhattan district attorney, was taking notes in a spiral-bound notebook while sitting behind the defense table. Days earlier, Trump had shared an image of himself wielding a baseball bat against Bragg, who has faced at least one death threat since Trump unleashed a familiar campaign of intimidation against him.
Asked by prosecutors to address the menacing social media posts, Judge Merchan admonished Trump's defense attorneys to advise their client not to speak publicly about the case. Merchan asked that prosecutors advise their witnesses of the same, clearly referencing Daniels and the expected star witness, Cohen.
The Secret Service officers who had been by Trump's side throughout the entire ordeal took him away after Merchan ordered his release on his own recognizance. They sped down the highway in black vehicles to La Guardia Airport, where Trump had arrived in dramatic fashion a day earlier on his private jet from Mar-a-Lago.
Trump's flagging campaign to return to power has been galvanized by his indictment, with Republican officials and voters rallying to his side, believing he is the victim of a "witch hunt" by the Democratic district attorney. He's raised millions of dollars for his campaign since erroneously predicting his own "arrest" would take place weeks ago and be returning to Florida to turn the entire day into a campaign speech.
The arraignment was the hottest event in town, with Trump's travel to New York tracked like he was O. J. Simpson. In Manhattan, the media began lining up for access to the courthouse 24 hours before the hearing was scheduled to begin, and helicopters were whirring with anticipation by early Tuesday morning. Numerous Trump supporters gathered outside to show their support for the former president, as he had requested weeks earlier, but counterprotesters drowned them out and special guest Marjorie Taylor Greene.
Consider purchasing one of our Donald Trump T-shirts if you are a supporter of the iconic former president and want to show your solidarity with him.
Source: The New York Times