Chelsea's hopes of maintaining interest in a woeful season always looked slender after losing last week in the Bernabeu and Rodrygo put them out of their misery with his two second-half goals to confirm Real Madrid FC's superiority with a 4-0 aggregate win.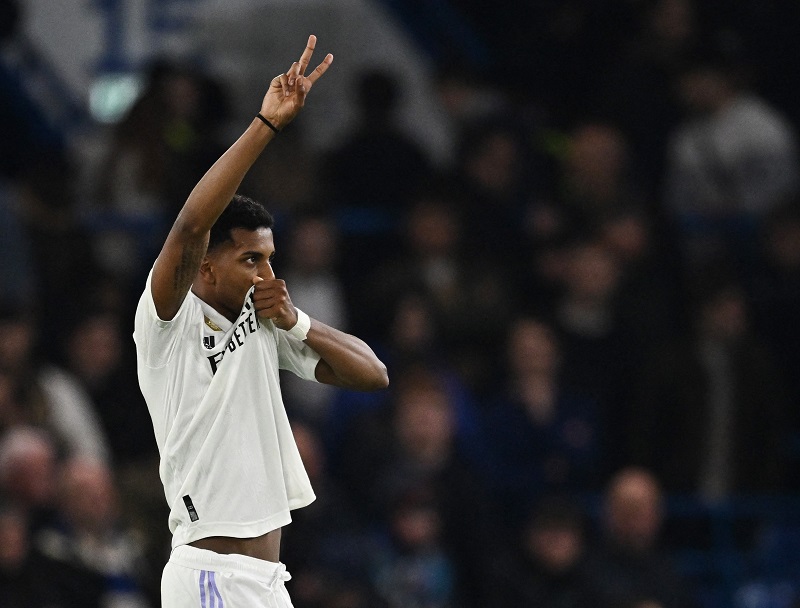 Number 21 scored twice on the night as Real Madrid FC reached the final four for the 10th time in the last 12 seasons. Madrid will likely face Manchester City in the semifinals, with Pep Guardiola's team-leading Bayern Munich 3-0 in their quarterfinal with one leg to play.
By the start of the second half, it was all Chelsea, as the Blues grew stronger and stronger and scoring chances just went begging, but they were clearly the side in total control — right up until Real Madrid scored the opening goal on the counter-attack.
The hosts had 19 shots on goal, but they were unable to score any of them, leading to their fourth consecutive loss across all competitions since the return of the club's all-time leading scorer Frank Lampard in the role of interim manager.
Rodrygo got his first goal in the 58th minute following a scramble in the six-yard box, and the Brazilian forward walked the ball into the back of the net to make it 2-0 in the 80th minute. Real Madrid bent time and again as Chelsea tried to get back in the tie, but the defending European champions were vastly superior when it mattered most — in the final third.
The London club has now lost four games in a row for the first time since 1993. This is despite the fact that since Todd Boehly led the takeover, the club has spent approximately $745 million on players.
For Real, they may be handing the La Liga title to arch-rivals Barcelona, but remain the team to beat in Europe's elite competition, and manager Carlo Ancelotti is now eyeing a third Champions League crown with them and fifth in all.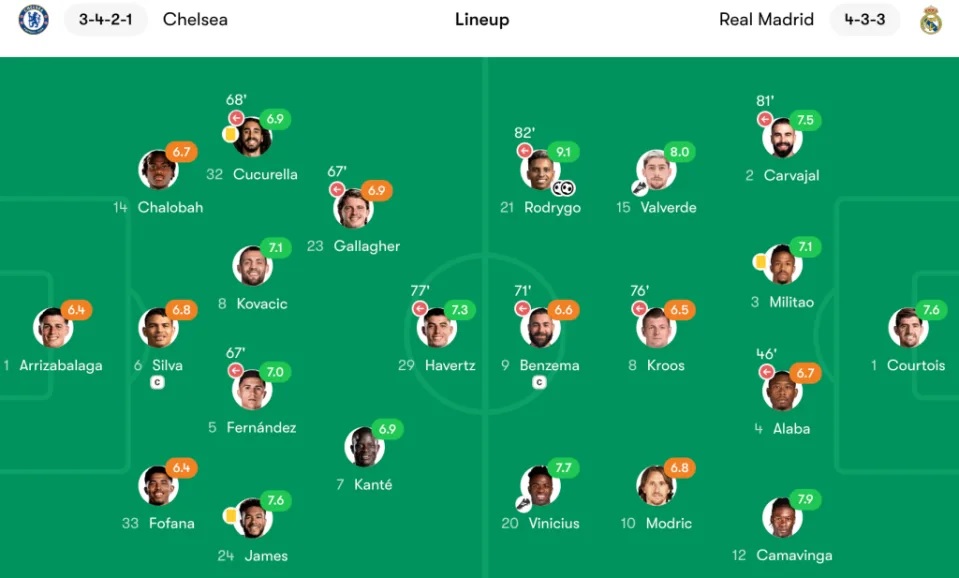 Madrid did pick up one bit of bad news on an otherwise joyous night when Eder Militao picked up a yellow card that will keep him out of the first leg of the semifinals due to accumulation.
Ancelotti said: "A bit worried, going down to 10 men would have been difficult, but after that, he had a spectacular game at the back. He'll miss the first leg of the semifinal, but let's hope we'll have David Alaba back."
Good news and bad news for Chelsea FC
Aside from their 2-0 victory over Borussia Dortmund on March 7, Tuesday was the best Chelsea performance since early October. That's 6 months with one performance to be proud of at full-time. This is, perhaps, something to build on. The new manager, Frank Lampard was very defensive with his lineup selection, and it allowed Chelsea to absorb pressure and create a few decent chances on the counter. 
Personnel and the system appeared to be functional; they appeared competent and almost cohesive. These are significant improvements for a club that is currently 11th in the Premier League table and has already fired two permanent managers this season.
And now, the bad news is: None of it mattered one bit, nor did it ever feel like it could potentially matter. Chelsea was just good enough to avoid embarrassing themselves and letting the aggregate score get out of hand, but so woefully unprepared for the critical moments. It was an admirable and respectable performance from Chelsea, but that's it against a side that has won five Champions League trophies in nine seasons.
* Information from ESPN was used in this report.
Ink In Action offers a variety of Real Madrid t-shirts, including those featuring specific players' names and numbers. With our print-on-demand service and customization options, you can show off your team spirit in style. Contact us with any questions or concerns, and get ready to cheer on your team in a stylish and comfortable soccer shirt.